Posted by ANTARA Staff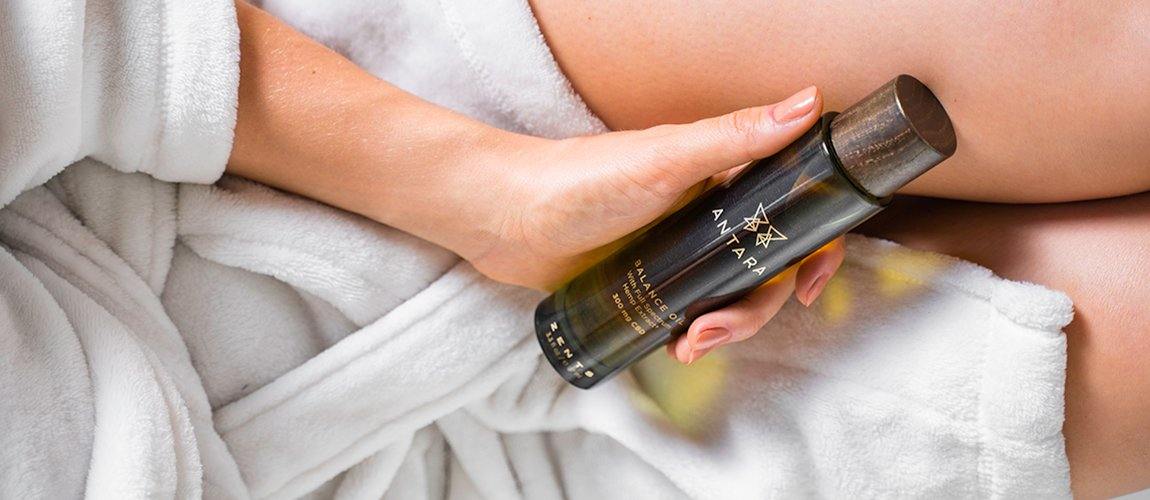 Have you been curious about CBD but not sure where to begin?
ANTARA is a new line of wellness essentials from ZENTS, specifically formulated to offer the benefits of pure, potent, full-spectrum CBD. Begin the day with your AM ritual, and bring your body and mind to a relaxed state by applying ANTARA CBD again at night. 
Learn how to incorporate ANTARA into your PM skincare routine with the ritual below:
Set your mind into a relaxed state
It's important to set aside ample time to unwind before you flip off the lights and head to bed. Give yourself at least an hour before bedtime to unplug from devices, practice mindfulness, and begin your ANTARA PM skincare routine. To start, dispense the desired amount of   Vitality Elixir 1500 (or Vitality Elixir 500 if you're new to CBD or prefer a lower dose) in your mouth, hold for 30 seconds and swallow. This offers maximum absorption and faster activation. You can also add this to your favorite calming herbal tea such as chamomile or lavender for a steady release. For many, the warmth of the tea and scent of the herbs help to speed the relaxation process as well!
Keep in mind that it can take about an hour for you to feel the effects of CBD, but this differs a bit from person to person. Beginning your PM skincare routine at least an hour before lights out will give it more time to set in, so you experience a sense of balance as you drift off toward a night of restful, blissful sleep.
Take extra care after especially long days
Do you long for a relaxing bath to wind down from chaotic days? Or perhaps when you have just enough time to yourself to take advantage of a longer nighttime routine? While taking the time out from your evening to indulge in a bath may not always be possible, it's nice to have at the ready as a special treat for your mind and muscles!
Because ANTARA is part of the ZENTS family, you won't be surprised to hear that we squeeze in a nice long soak whenever time allows. Make the most of it with a Bath Truffle 100 mg—an effervescent shea butter bath soak enhanced with CBD, Pink Himalayan salt, and coconut oil. All ingredients are mindfully formulated and  meticulously tested. Research shows that stress can negatively affect your quality of sleep, so don't feel guilty for indulging in this ultra-relaxing pre-sleep treat!
Release stress and restore balance
Without a proper response to chronic stress, such as calming nightly rituals like this, the overwhelm can exacerbate skin (and other health) conditions, lead to inflammation,  and more… which of course, may lead to even more stress! The end of the day is the perfect time to focus on letting go of lingering worries and restoring balance to your body and mind.
You'll find that multipurpose Balance oil does the work of many: hydrates, nourishes, softens, and balances. It's superb as a massage oil—pour onto your hand and gently massage onto neck, décolletage, arms, and legs—but the vitamin E, fatty acids, and antioxidant-rich full-spectrum hemp extract makes it an excellent facial oil as well. After bathing, massage the oil onto damp skin from head to toe. Since the skin on your face is more delicate, take care to gently press on the oil on rather than rub.
An effective PM skincare routine wouldn't be complete without a restorative mask, and  Restore balm simplifies the process. Take advantage of this antioxidant rich overnight treatment by utilizing it as a face, hand, and foot mask. First, soften the balm in your hands and gently apply to face, neck, and décolletage. Secondly, massage into feet to soothe and release tension. For particularly dry or stressed skin, opt for our more potent  Relief Balm. Cover with socks for maximum absorption overnight, and enjoy your most restful sleep!


To get the most out of your ANTARA CBD skincare ritual, pair this process with your AM ritual. Learn more about ANTARA and visit Our Story and CBD 101 to learn the basics on CBD.
Shop the Ritual:
Resources:
1.

Effects of stress on sleep:

  

https://www.apa.org/news/press/releases/stress/2013/sleep
2.
Effects of stress on skin: 
https://www.ncbi.nlm.nih.gov/pmc/articles/PMC4082169/
Collection 2019
Sale 70% Off
Title for image